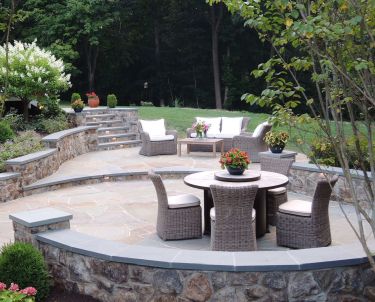 Fall Aeration & Overseeding
Do you want that golf course looking lawn? Then do what golf courses do, Fall Aeration and Overseeding Aeration is the process of removing cores of soil from the lawn that allow for improved exchange of gasses between the soil and the atmosphere, improved water infiltration, improved rooting, decreased soil bulk density and a site for germination of seed. Aeration is performed during the fall months of the year, after the heat and humidity of summer
Overseeding is highly recommended at the time of aeration. We use a premium blend of grass types that are vigorous and competitive to help keep the lawn thick and healthy. It's survival of the fittest out there and constantly renewing the lawn through overseeding is the very best and most highly recommended step you can take to get that lush green lawn If you want your lawn to "look like a golf course", then you should do the things that golf courses do, and there are two things that every golf course does, aeration and overseeding.
Benefits of Aeration and Overseeding
The following benefits are a result of the aeration process:
Increases the activity of soil microorganisms that decompose thatch
Improves fertilizer uptake and use
Enhances water uptake and use by soil
Reduces soil compaction (immediately)
Increases oxygen movement between the soil and atmosphere
Enhances infiltration of rainfall or irrigation
Helps prevent fertilizer and pesticide run-off from overly compacted areas
have a project?
Let's Start Today!
Testimonials
"Everything always exceeds our expectations. Everything was done perfectly. Everyone was happy to be there. You have an excellent crew and business."
M.L.
"We were fortunate enough to find a company that has just finished doing a fabulous job in our back yard. Wheat's did exceptionally high quality work, were extremely responsive and wonderful to work with."
D.G.
"I really like the communication, and the responsiveness. It is great to have a company that is there when you need them, and to have the comfort of knowing the property is well-maintained."
M.B.
"Well you all have quite a reputation for the quality of your work in my neighborhood. It's just beautiful! Wheat's is a legend around here."
R.B.
Proudly Serving
Northern Virginia, Maryland,
& NW Washington, DC
Let's Start Today