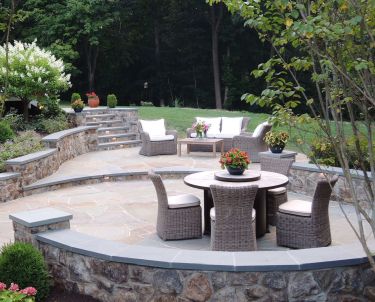 Landscape Design for New Construction in Northern Virginia, Maryland & Washington, DC
The design of your landscape says a lot about who you are. It's one of the biggest parts of a home where your personality and personal tastes can really shine through. And when you're planning on breaking ground with a new residential construction, you're dealing with a beautifully blank slate. This is your perfect opportunity to make your landscape shine! And with the landscape design professionals at Wheat's Landscape by your side, you're guaranteed to see your landscape dream come to life.
Our landscape design team, made up of master craftsmen, leading designers, certified horticulturalists, and skilled project managers can help you build the landscape you've always wanted. We've been proudly serving the landscape needs of residents and businesses in Virginia and Maryland for decades, and our team can't wait to work with you!
Looking for a flawless design and build team for your new construction landscape design? Contact Wheat's Landscape online today to learn more about how we can help you create the perfect dreamscape!
New Construction Landscape Design Services
We've helped countless homeowners craft custom landscape designs that perfectly suit their design tastes and functional needs. When you want the best for your home, you won't settle for less from your design team, and we sit at the top in landscape service.
Our design team will work right alongside you, helping you to create a landscape that is ideal for your new home. And to ensure you get everything you want and more, we offer comprehensive design and build services for your landscape, including:
Garden and horticulture design
Walk and driveway design and installation
Drainage system planning and implementation
Outdoor kitchens and fireplaces
And much more!
Our design and build services for new construction are totally all-encompassing, giving you access to one team that can meet all of your needs. We want the best for your new home, and to ensure you get it, you'll benefit by all of our industry-leading service!
The Benefits of a Professional Design Team
Working with our team is about more than just building a landscape layout. Choosing the professionals at Wheat's Landscape provides you with:
Surety. When you work with certified and licensed professionals, you can rest assured that your needs are going to be totally met. No crossing your fingers over whether or not your plans will hash out—just perfect solutions and flawless design to enhance your new home.
Flawless landscape design. Our team has been in the business of providing the best for a long, long time. We have the experience, the training, and the equipment to ensure all of your needs are totally met. And we can ensure your design goes perfectly to match your vision.
Quality products and services. As a leader in landscape services, we only work with the best. All of our materials and equipment are of the highest caliber and you can rest easy knowing you are getting professional service from a team that uses professional-grade everything.
Exclusive deals and lower rates. Through our unique relationships with manufacturers and vendors, we can get the materials to generate and put your design into action at a far lower cost than anyone else!
Ready to learn more about our custom landscape design services for your new construction? Contact the professionals at Wheat's online today!
New Construction Landscape Design in VA, MD & DC
Whether designing a master plan for a large-scale property or an intricate plan for a small garden, our professional design staff will work closely with you to create a unique look specifically tailored to your vision. We pride ourselves in creating elegant outdoor spaces that match your home's architecture, blending the line between home and garden. You can trust that our landscape design professionals will leave you with a landscape that matches your dreams.
For landscape design and installation services for new construction homes in Northern Virginia, Maryland, and Washington, DC, give the reliable experts at Wheat's Landscape a call today or fill out a contact form.
have a project?
Let's Start Today!
Testimonials
"Everything always exceeds our expectations. Everything was done perfectly. Everyone was happy to be there. You have an excellent crew and business."
M.L.
"We were fortunate enough to find a company that has just finished doing a fabulous job in our back yard. Wheat's did exceptionally high quality work, were extremely responsive and wonderful to work with."
D.G.
"I really like the communication, and the responsiveness. It is great to have a company that is there when you need them, and to have the comfort of knowing the property is well-maintained."
M.B.
"Well you all have quite a reputation for the quality of your work in my neighborhood. It's just beautiful! Wheat's is a legend around here."
R.B.
Proudly Serving
Northern Virginia, Maryland,
& NW Washington, DC
Let's Start Today