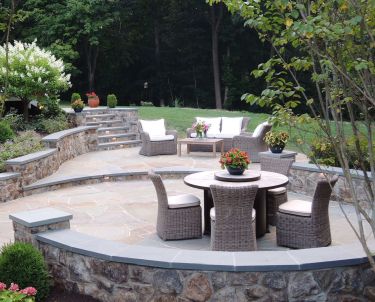 Top Swimming Pool Design Ideas for 2023
Is 2023 the year you will add a pool to your Virginia home? If so, then make sure you are embracing modern design ideas to make your pool an attractive landscaping element. The team at Wheat's is ready to make that happen. But a great pool requires a great design. Here are some hot pool design trends that are showing up in pools this year that you may want to consider for your own backyard.
Consider Decorative Tile
Decorative tile mosaics are making a splash on pool designs in 2018. Not only are these showing up in the pools themselves, but they are also showing up in the décor around the pool, including the walls and walkways. Whether you use tile to create a pleasing pattern or create an actual picture out of the tiles, this trend will make your pool look beautiful and inviting.
Build an Unusual Shape
Who says that a pool has to be a boring rectangle or oval? If you have the room, give your pool some interest by building it in a surprising shape. Curving lines and a twisting design will make the pool look more like a natural waterway than a man-made feature. With the help of the right design team, you can get quite creative with the shape of your pool.
Go Smart
You've already gone smart inside your home, now why not take the technology outside? Automation is now possible with your swimming pool design. Add automation systems that allow you to remove or replace the pool's cover, adjust the heater temperature, and even turn on the cleaning system, all from your smart phone. While this particular design trend won't change the way the pool looks, it will make your enjoyment of it just a little easier.
Plan for Seating
As you plan the design for your pool, plan for poolside seating as well so it looks like it is part of the overall design, rather than an afterthought. Whether the seating is built into the pool deck or is carefully chosen to match the design of the entire pool area, the right seating will increase your enjoyment of your pool dramatically. Don't forget to include a plan for some shade over portions of your seating areas, either through foliage or through an awning.
Work With the Rest of Your Landscaping
In 2018, a growing trend in pool design will be working the landscaping and plants in to the design of the pool. Walls made from hedges, grasses planted around the pool to give it the appearance of a natural pond, and trees planted to provide natural shade are all an important element of this year's pool designs.
Decorative Lighting
Finally, as you plan for your new pool, make sure the design includes lighting. Not only do you need lighting under the water to ensure that you can see if you swim after dark, but consider adding lighting around the pool and along the walkways as well. Make the lighting a decorative part of your pool design so that it is both functional and beautiful. Lanterns are a popular trend in 2018, and they can give your pool that classically elegant look you want while also providing the lighting you need.
Inground Pool Design & Installation in Northern Virginia
Are you looking for more design inspiration for your pool this year? Talk to the team at Wheat's to get inspiration from our talented landscaping and pool design professionals. We look forward to helping you make your pool dreams a reality.
*All photos owned by Wheat's Landscape © 2018. All rights reserved.
have a project?
See If We Serve Your Community!
Testimonials
"Everything always exceeds our expectations. Everything was done perfectly. Everyone was happy to be there. You have an excellent crew and business."
M.L.
"We were fortunate enough to find a company that has just finished doing a fabulous job in our back yard. Wheat's did exceptionally high quality work, were extremely responsive and wonderful to work with."
D.G.
"I really like the communication, and the responsiveness. It is great to have a company that is there when you need them, and to have the comfort of knowing the property is well-maintained."
M.B.
"Well you all have quite a reputation for the quality of your work in my neighborhood. It's just beautiful! Wheat's is a legend around here."
R.B.