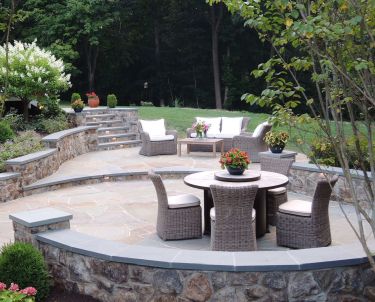 5 Flowers That Look Great Year-Round
Although the Washington, DC, area has relativity mild winters, it does get cold enough to kill off all but the most hearty plants in your yard. If you want to make your home's landscaping more vibrant and colorful year-round, there are several perennial plants that can help.
Begonias
The most popular varieties of Begonias feature waxy green leaves with single or dual flowers that bloom in the spring and fall and can last all summer.
The flowers are bold and colorful, with a range of red, orange, pink, white, or yellow petals. Other varieties of Begonias feature complex flowers with multiple rows of petals, and some offer leaves with intricate patterns and colors.
Begonias should be planted in the spring after the last frost in well-drained soil with partial to full sun. They can reach 6 to 18 inches tall and up to 12 inches wide. Be careful around pets, as the roots of Begonias can be toxic to dogs, cats, and horses.
Black-Eyed Susans
Black-eyed Susans are flowers with a dark spot in the center surrounded by a ring of long, thin yellow petals.
Perennial varieties like Goldsturm, Sweet, and Gloriosa Daisies come back year after year, and they can grow from 12 to over 36 inches tall.
They prefer full sun but can tolerate partial shade, and they should be planted about six weeks before the last frost if growing from a seed. They bloom from July to August in Maryland or northern Virginia, and they're great for areas with wildlife, as they are resistant to deer.
Lantanas
Ideal for winter gardening or fall gardening, perennial varieties of Lantanas can be planted at any time of the year.
They're a fast-growing, vining shrub that can reach up to 6 feet high and 6 feet wide, making them ideal for ground cover.
Lantanas have small clusters of flowers in red, white, pink, blue, or purple, and they require full sun, so they're best planted in open areas of the backyard or front yard that are free of shade.
They bloom in the spring, and the flowers will remain until fall when temperatures dip below 55 degrees. Extreme caution should be taken around pets, as Lantanas are toxic to cats, dogs, and horses.
Blue False Indigos
With their gray-green leaves and long clusters of blue flowers, Blue False Indigos are an attractive plant that can grow up to 5 feet tall and 4 feet wide.
They prefer full sun at least six hours a day, and they bloom in middle to late spring, with the flowers lasting up to three weeks.
When started from seed, it will take three to four years before Blue False Indigos begin to flower, and they do best in moist, well-draining soil.
Bulb Planting
Flower bulbs contain everything necessary to grow a new plant in a dormant state, similar to onion or garlic bulbs.
Spring bulbs require spending at least a few weeks in cold soil before warm weather arrives and begins the growth process, blooming in early spring. Some common spring bulbs include tulips, irises, daffodils, crocuses, and allium.
Summer bulbs like warm soil and should only be planted after the last frost. They'll bloom in summer; some types will last until late fall.
Popular summer bulbs include dahlias, lilies, elephant ears, and caladiums. Consider planting bulbs in clusters, arranged by height, for the best visual appeal with minimal shading.
Perennial Plants & Flowers for Your Maryland or DC Home
Are you looking to add a striking display of flowers that looks great year-round? Contact Wheat's Landscape. We can recommend the best perennial varieties for your home in Maryland, northern Virginia, or the DC area and can provide the care they need to stay healthy year-round.
We've served homeowners with full-service landscaping services since 1978 and offer complete design-build services, maintenance, and more. We offer impressive attention to detail and an extensive portfolio of award-winning projects.
Make your yard gorgeous year-round with our professional landscaping services from Wheat's Landscape.
Call us today at (703) 641-4790 to schedule a consultation in northern Virginia, Maryland, or the DC area.
have a project?
See If We Serve Your Community!
Testimonials
"Everything always exceeds our expectations. Everything was done perfectly. Everyone was happy to be there. You have an excellent crew and business."
M.L.
"We were fortunate enough to find a company that has just finished doing a fabulous job in our back yard. Wheat's did exceptionally high quality work, were extremely responsive and wonderful to work with."
D.G.
"I really like the communication, and the responsiveness. It is great to have a company that is there when you need them, and to have the comfort of knowing the property is well-maintained."
M.B.
"Well you all have quite a reputation for the quality of your work in my neighborhood. It's just beautiful! Wheat's is a legend around here."
R.B.