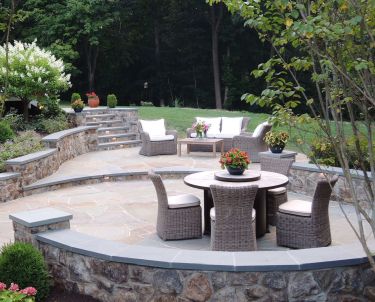 Top 5 Questions to Ask Your Landscape Maintenance Company
Entrusting your landscape to a well-managed and educated service provider is a must. A quality landscape maintenance company will have the knowledge to schedule services when appropriate, as well as a professional staff that is trained in proper horticultural techniques. Landscape maintenance is both an art and a science. You must do it right to ensure your landscape investment stays healthy and grows in value.
Are you interested in landscaping services for your Virginia, Maryland, or DC home? Contact the professionals at Wheat's Landscape today!
Questions to Ask Your Landscaper
Here are the top five questions you should ask a landscape maintenance company.
What is your company's training program for proper horticultural practices?
Many companies, like Wheat's for example, conduct internal training in the field, while also requiring various certifications from established organizations and associations.
Are your lawn and plant health care technicians properly licensed by the state?
Having a properly licensed technician will help to ensure that your family, pets and overall environment are being taken into account when treatments and services are being done.
Am I provided with a dedicated account manager?
A dedicated account manager will give you the opportunity to have a contact that can be contacted at any time in regard to any concerns, praises or questions that you might have.
Will a professional inspect my property at regular intervals ensuring the health of my landscape?
Routine inspections will allow for regular updates of your landscape, as well as provide potential ways to enhance your outdoor space.
Does your company carry both General Liability and workman's compensation insurance?
This will help to protect your family in the case of an accident or any damage to your property.
Northern Virginia's Landscape Professionals
Our licensed and certified property maintenance professionals are committed to keeping your yard lush, green, and healthy with quality landscape services in Northern Virginia and the entire DC area. Regularly scheduled site visits allow our lawn care team to closely monitor your lawn conditions and adjust treatments accordingly. We offer customized programs that suit the various needs of yards throughout Northern Virginia. Whether you're looking for potted plants, leaf removal, or professional mulching, we're the landscaping company to call!
For high quality landscaping in Washington, DC, Maryland, and Northern Virginia, including McLean, Arlington, Reston, Annandale, and surrounding areas, you can trust the professional landscapers at Wheat's Landscape. Contact us today!
have a project?
See If We Serve Your Community!
Testimonials
"Everything always exceeds our expectations. Everything was done perfectly. Everyone was happy to be there. You have an excellent crew and business."
M.L.
"We were fortunate enough to find a company that has just finished doing a fabulous job in our back yard. Wheat's did exceptionally high quality work, were extremely responsive and wonderful to work with."
D.G.
"I really like the communication, and the responsiveness. It is great to have a company that is there when you need them, and to have the comfort of knowing the property is well-maintained."
M.B.
"Well you all have quite a reputation for the quality of your work in my neighborhood. It's just beautiful! Wheat's is a legend around here."
R.B.