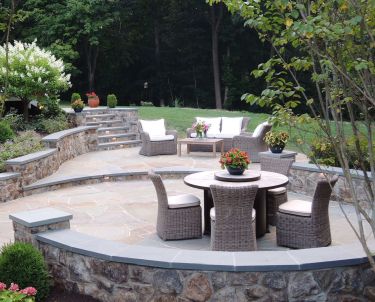 Holiday Lighting Tips to Make Your Neighbors Jealous
The holiday season is just around the corner, and it's time to start thinking about this year's holiday lighting design! Wheat's Landscaping is here to help! We love the holiday season and want to help you create a showstopping display that's certain to make your home the talk of the neighborhood.
If you are looking for some of the best holiday lighting tips to make your neighbors jealous—look no further! Here are some of the best holiday lighting tips and tricks that can help you create a gorgeous showstopping holiday display with ease.
Consider the Scale & Proportion of Your Decorating Elements
When decorating the exterior of your home for the holidays, it's important to consider how each element will appear from the street. Choosing holiday elements that are too large or small for your home may make your overall design look disproportionate and cluttered.
Discover the Advantages of Net Lighting
Those gorgeously manicured hedges around your home can add an elevated element of luxury to your holiday design with the right lighting choices. Covering them with net lighting may require a slightly larger upfront cost but, the amount of time (and frustration) you'll save during installation is certainly worth the added investment.
Showcase Seasonal Landscaping Structures
Holiday lighting can be tricky when it comes to displaying seasonal landscaping structures—we get it! Here's the trick to doing it well:
Create a gorgeous look by leaving the seasonal structure unlit. Instead, create an ambient glow with a softly lit backdrop of light for your display piece.
Add Some Twinkle to Your Trees
Adding twinkle  lights to your landscape's trees are a fantastic way to create envy-worthy curb appeal for your home during the holidays. It's important to spend a little extra time to pre-plan a strategic placement before you begin. Locating a consistent stopping point among your landscaping trees will help to create a cohesive, well-balanced look while adding symmetry to your overall holiday lighting design.
Light the Way with a Warm Glow
The holidays always bring even more guests and visitors to your home than any other time of the year. So why not light the way with your holiday lighting design? If you have smaller trees and shrubs along your walkways, you can add a few well-placed strands or even net lighting to add a warm and subtle glow. And, your guests will appreciate the added safety of a well-lit walkway!
Striking Graphic Shapes
Adding a collection of illuminated graphic shapes to your holiday lighting design will bring an added element of illumination and depth to your awe-inspiring holiday display. An odd number of Moravian stars elegantly hanging from a tree that has already lost its leaves can add a dramatic holiday lighting effect to your home and help stave off potential monotony.
Call Wheat's Landscape for Holiday Lighting Services
Don't have time to make your landscape dazzle this holiday season? If you're in the Northern Virginia area, call Wheat's Landscape! We'll make sure your home is the most beautiful one on the block. Contact us today.
have a project?
See If We Serve Your Community!
Testimonials
"Everything always exceeds our expectations. Everything was done perfectly. Everyone was happy to be there. You have an excellent crew and business."
M.L.
"We were fortunate enough to find a company that has just finished doing a fabulous job in our back yard. Wheat's did exceptionally high quality work, were extremely responsive and wonderful to work with."
D.G.
"I really like the communication, and the responsiveness. It is great to have a company that is there when you need them, and to have the comfort of knowing the property is well-maintained."
M.B.
"Well you all have quite a reputation for the quality of your work in my neighborhood. It's just beautiful! Wheat's is a legend around here."
R.B.