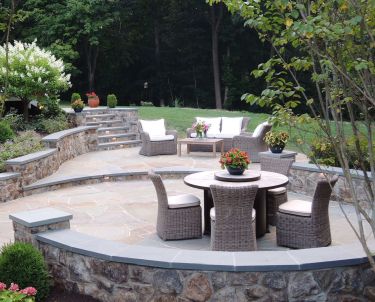 Patio Design & Installation in Bethesda, Maryland
Bethesda is known for its cold winters and hot summers. And there's no better way to enjoy the warm summer weather than a night spent grilling and roasting marshmallows with your family in your custom-designed outdoor living space. With a patio, you will create memories that last a lifetime. For a custom-designed, practical outdoor patio, turn to the professionals at Wheat's Landscape. Our team can design and install a functional, yet beautiful patio for you and your whole family to enjoy.
Let Wheat's Landscape turn your Bethesda home's backyard into a picturesque backyard. Contact us for outdoor patio design and installation services!
Types of Outdoor Patios
When designing your custom patio, there are a few materials you can choose from, including:
Brick – This option also gives you the opportunity to create patterns such as herringbone, or alternating bricks on a 90-degree angle, as well as a pinwheel, which forms a square with four regular-sized bricks and a half brick in the middle.
Tile – Looking for something with a unique sense of beauty? Both ceramic and porcelain tiles make for a distinctive patio.
Poured concrete – Made up of cement, sand, gravel, and water, poured concrete is a manipulative semi-liquid that can be formed into almost any shape or size. If you're looking for a versatile option to create a specific shaped patio, then poured concrete might be the best choice for your Bethesda home.
Concrete pavers – These can be compared to a mix of poured concrete and brick. Concrete pavers are made of dense concrete that is compacted to form individual pieces that mimic brick or stone—but for a lower price.
Stone – For a picture perfect patio, consider installing stone tiles. Stone looks beautiful when contrasted with the outdoors because of its natural hues. This patio flooring option is also one of the most durable, which is a major benefit considering it needs to withstand the elements!
Need help determining which patio material is the best choice for your Bethesda backyard? Contact the patio design and installation experts at Wheat's Landscape!
Benefits of Installing an Outdoor Patio
A professionally designed patio offers more advantages than creating a beautiful space to enjoy the outdoors. These benefits include:
Increased property value – If there ever comes a time to put your Bethesda home on the market, the addition of a well-designed patio is likely to increase the value of your home.
Expanded living space – Ever throw a gathering at your house that was slightly too cramped? With an outdoor patio, there is more room for your guests to mingle. A patio essentially gives you another room during the long summer months.
Reduced energy cost – By adding an outdoor living space, you can save on your summer cooling bills. After all, you're not adding all that cooking heat to the interior of your home since you'll be outside grilling.
Create a Customized Outdoor Living Space
Think of your backyard as a canvas. There are a variety of ways you can decorate it to your liking. At Wheat's Landscape, we strive to provide you with a multitude of options to create your own one-of-a-kind landscape. Along with outdoor patio design and installation, we also install the following:
Outdoor kitchens
Outdoor bars
Outdoor fireplaces
Landscape lighting
Pergolas & gazebos
And more!
Bethesda's Patio Design & Installation Experts
Adding a backyard patio is an investment you want to be able to enjoy for years to come. Done properly, your outdoor patio area should be as beautiful ten years from now as it is when you first install it. Allow our design and installation team at Wheat's Landscape to transform your backyard into an outdoor entertainment area for you, your family, and your guests to enjoy. We specialize in patio design and installation and we've been helping Bethesda homeowners enhance the exterior of their homes since 1987.
Whether you want to add a patio, outdoor kitchen, or an outdoor fireplace, Wheat's Landscape can help with all your outdoor design build needs! Let us take your patio ideas and turn them into reality. Contact us online or call us at 703-641-4790 to schedule an appointment.
have a project?
See If We Serve Your Community!
Testimonials
"Everything always exceeds our expectations. Everything was done perfectly. Everyone was happy to be there. You have an excellent crew and business."
M.L.
"We were fortunate enough to find a company that has just finished doing a fabulous job in our back yard. Wheat's did exceptionally high quality work, were extremely responsive and wonderful to work with."
D.G.
"I really like the communication, and the responsiveness. It is great to have a company that is there when you need them, and to have the comfort of knowing the property is well-maintained."
M.B.
"Well you all have quite a reputation for the quality of your work in my neighborhood. It's just beautiful! Wheat's is a legend around here."
R.B.
Proudly Serving
Northern Virginia, Maryland,
& NW Washington, DC
Let's Start Today