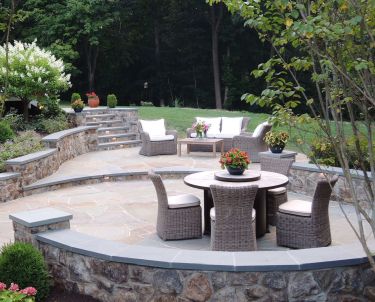 Washington, DC Outdoor Kitchen Design & Installation
When the temperatures start reaching above 70 degrees, there's nothing better than spending time outdoors. The difference between having a grilling area and having a full outdoor kitchen is dramatic. While a grilling area can be pleasant, you will still have to retrieve several items from your indoor kitchen. An outdoor kitchen brings all of these items directly to your back yard so you aren't constantly running back inside.
A full outdoor kitchen can come equipped with an outdoor grilling area, an outdoor stove, an outdoor freezer and refrigerator, outdoor counter tops, and an outdoor sink. Whatever features you can imagine for an inside kitchen, the professionals at Wheat's Landscape can bring them to life in your own backyard.
Create a customized outdoor kitchen for your home in the Washington, DC area. Contact Wheat's Landscape to find out what we can do for you!
Washington, DC Outdoor Kitchen Design
We understand that each backyard is different. None of our outdoor kitchens are one-size-fits-all—we create a space customized to your specifications. When planning your outdoor living space, there are numerous features to consider:
Grill – When it comes to your grill, you need to choose whether you want an appliance that is built into your kitchen or one that can be moved throughout. Size is also something to consider—are you going to be cooking for a family of four or constantly having big BBQs where a larger size might be beneficial.
Countertops – Is your prep going to be done indoors or outdoors? The purpose of your outdoor kitchen space it to create an outdoor area where you can prep, cook, and eat your meals. Plan your countertops accordingly with the amount of space your needs require.
Cabinets – While you may not think cabinets are necessary, they greatly reduce your trips to and from your indoor kitchen. Instead of sharing the same cooking tools as your indoor kitchen, you will be able to store the adequate cooking tools and dishware in your outdoor kitchen.
Lighting – Although the summer allows for more sunlight into the evening, there still comes a time when the sun will set. Whether you're preparing food, eating a family dinner, or having a few drinks with friends, lighting can make the experience much more enjoyable!
Sink – Food preparation and clean up require a sink with running water. Don't carry your dirty outdoor dishware and cooking utensils inside just to have to bring them back outside to put away in the cabinets.
Refrigerator – Depending on the needs of you and your family, you can decide whether a small or full-sized fridge is the best fit for your Maryland area outdoor kitchen. This all depends on how much you plan to store outdoors.
Flooring – Concrete, natural stone, brick, and tile are good options for outdoor flooring. You don't want a high-maintenance product outside, but you do want it to be stylish and weather-resistant.
We've been designing outdoor kitchens since 1978. Our experience allows us to better determine which features are needed in your customized outdoor kitchen—contact us today!
Benefits of An Outdoor Kitchen for Your DC Home
Whether you're building a new house, or simply making better use of the space you have, creating a place to cook outdoors could be a good investment to make. Some of the benefits of an outdoor kitchen include:
Creates an entertainment space – When the spring and summer months roll around, many DC homeowners like throwing family gatherings and neighborhood BBQs. Instead of cramming everyone in your living room and kitchen, you will be able to spread out and enjoy each other's company in your backyard.
Increases the value of your home – Outdoor kitchens are a popular home improvement project that are lusted after by potential buyers. Homeowners like the idea of purchasing a home with the space already designed and installed—you can expect the outdoor kitchen to be one of the major selling points of your home.
Saves money on utility bills – When you're grilling outside during the summer, your air conditioner won't have to work overtime to keep your house cool. When you bake, fry, roast, and broil foods in your indoor kitchen, the temperature in your house elevates several degrees, which kicks the AC into overdrive. When you cook outdoors, you will save on energy consumption.
Expands your living space – Your outdoor kitchen will essentially become another "room" for you and your family to enjoy. As long as the weather permits, this is a space you will use almost every day—whether you're cooking a family dinner or simply relaxing outside.
Washington, DC Outdoor Kitchen Design & Installation
Adding an outdoor kitchen is an investment you will be able to enjoy for years to come. Done properly, your outdoor eating area will be a space to create meals and memories with family, friends, and neighbors. Allow our design and installation team at Wheat's Landscape to extend your living space into your backyard with a customized outdoor kitchen. We specialize in outdoor kitchen design and installation and we've been helping DC homeowners enhance the exterior of their homes since 1978.
Whether you want to add a patio, outdoor kitchen, or an outdoor fireplace, Wheat's Landscape can help with all your outdoor design build needs! Let us take your outdoor kitchen ideas and turn them into a reality. Contact us online or call us at 703–641-4790 to schedule an appointment.
have a project?
See If We Serve Your Community!
Testimonials
"Everything always exceeds our expectations. Everything was done perfectly. Everyone was happy to be there. You have an excellent crew and business."
M.L.
"We were fortunate enough to find a company that has just finished doing a fabulous job in our back yard. Wheat's did exceptionally high quality work, were extremely responsive and wonderful to work with."
D.G.
"I really like the communication, and the responsiveness. It is great to have a company that is there when you need them, and to have the comfort of knowing the property is well-maintained."
M.B.
"Well you all have quite a reputation for the quality of your work in my neighborhood. It's just beautiful! Wheat's is a legend around here."
R.B.
Proudly Serving
Northern Virginia, Maryland,
& NW Washington, DC
Let's Start Today