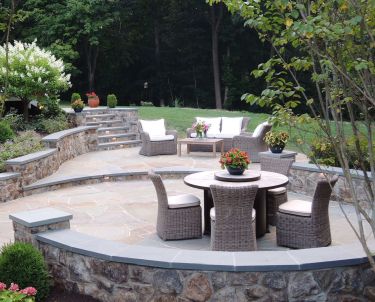 Masonry Repair Services in Falls Church, Virginia
Having some troubles with the masonry in your Falls Church landscape? The certified and licensed craftsmen at Wheat's Landscape can help! We've been providing cutting-edge and comprehensive care to our patrons for decades, and when you need service that is sure to bring you fast, effective, and beautiful solutions, there's simply no one better!
Utilize the skills and knowledge of our professional architects, design team, and master craftsmen to ensure your repair needs are not only met, but exceeded. Our personalized customer service strives to provide you with the absolute best we can provide, bringing you quality and assurance to each and every project we handle.
No matter the troubles you're facing with your landscape's masonry, the team at Wheat's Landscape can help. Contact us for masonry repair in Falls Church, VA!
Masonry Repair Services
Your needs can range from the complex to the rather simple. But regardless of how involved your repair may be, our team of experts will meticulously plan and execute the most effective repairs every time. Our workmanship and attention to detail are unparalleled, meaning we can skillfully restore or improve your damaged masonry.
For comprehensive care that can meet any need, homeowners in Falls Church have looked to the professional team at Wheat's Landscape for a long, long time. We want nothing more than to see that your ideas, wants, and needs are all fulfilled!
Our masonry repair service in Falls Church includes:
Brick
Stucco
Natural stone
Pavers
Step and walkway repair
Retaining wall repair
Outdoor kitchen repair
Fireplace and fire pit repair
Other hardscape fixtures and more!
When Do I Need Masonry Repair Services?
Some instances of repair are of course fairly obvious. But some occasions that require repair might escape your notice or seem fairly innocent. So when is masonry repair an important service to seek in Falls Church?
Crumbling or cracked masonry. Signs of cracking or stone beginning to crumble both indicates and perpetuates further damage to your masonry. Even small hairline cracks can become a major issue over time as water and particles intruded; causing further damage. This can be particularly dangerous for your masonry as the colder months set in, as the freeze/thaw cycles can cause cracks to rapidly spread.
Missing mortar. Mortar, the compound that "glues" your masonry together, can be subject to a few common forms of damage. Wind, time, and stormy weather can all be culprits. When the mortar in your masonry begins to fall out, goes missing, or starts to crumble, it's time for repair! Without healthy and stable mortar, masonry objects can begin to fall apart and become unsightly. Don't let even a small amount go missing!
Discoloration, fading, and other time-related issues. Is your Falls Church home's masonry just not looking as great as it used to? Preserving the beauty and integrity of your masonry is part of what we're all about! When your masonry is no longer living up to your standards, a repair, renovation, or replacement might bring you the solution you've been looking for. Take advantage of this opportunity to further enhance the visual appeal of your landscape!
Masonry Repair in Falls Church, Virginia
Our licensed and certified masonry design, installation, and repair experts are dedicated to making your outdoor area match your dreams. Since 1978, our award-winning team has become a trusted company for landscaping services throughout Falls Church and the surrounding areas.
Whether designing a master plan for a large-scale property or an intricate plan for a small garden, our professional design staff will work closely with you to create a unique look specifically tailored to your vision. We pride ourselves on creating elegant outdoor spaces that match your home's architecture, transforming your home and garden. You can trust that our mason repair professionals will leave you with a landscape that matches your dreams.
For masonry repair services in Virginia, including Falls Church, give the reliable experts at Wheat's Landscape a call today or fill out a contact form.
have a project?
See If We Serve Your Community!
Testimonials
"Everything always exceeds our expectations. Everything was done perfectly. Everyone was happy to be there. You have an excellent crew and business."
M.L.
"We were fortunate enough to find a company that has just finished doing a fabulous job in our back yard. Wheat's did exceptionally high quality work, were extremely responsive and wonderful to work with."
D.G.
"I really like the communication, and the responsiveness. It is great to have a company that is there when you need them, and to have the comfort of knowing the property is well-maintained."
M.B.
"Well you all have quite a reputation for the quality of your work in my neighborhood. It's just beautiful! Wheat's is a legend around here."
R.B.
Proudly Serving
Northern Virginia, Maryland,
& NW Washington, DC
Let's Start Today