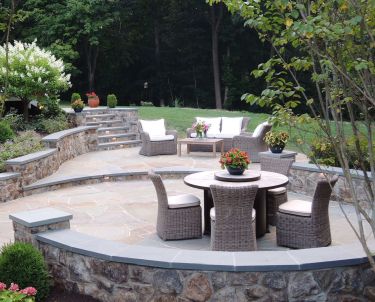 Landscape Lighting Design & Installation in Silver Spring, Maryland
Do you host a lot of gatherings in your backyard? Does your family spend time outdoors? When the warm weather arrives, Silver Spring homeowners, like you, often throw backyard BBQs, host family gatherings, and have neighborhood pool parties. But what happens when the sun begins to set? Don't let the night overshadow your gathering. With outdoor lighting, you and your guests can enjoy your outdoor living space late into the night. Landscape lighting is a popular choice for residents in Silver Spring and surrounding areas, and if you're considering installing outdoor lighting you need a landscape company that is trained to design and install your lighting fixtures.
For professional landscaping lighting design and installation throughout Maryland, contact Wheat's Landscape! Our team will design outdoor lighting to match any design aesthetic.
Types of Landscape Lighting
From driveway lighting to tree uplighting, and security light to deck and patio lights—Wheat's Landscape does it all. No matter your lighting dream, our design and installation team can turn it into a reality. Our landscape lighting services include, but are not limited to:
Path Lighting – This provides a safe route for your family or guests to use when traveling through the backyard.
Downlighting – Do you have a feature in your backyard you'd like to showcase? Downlighting illuminates from an elevated location and highlights the surface area below.
Uplighting – If your backyard is full of unique and beautiful trees, you should consider installing uplighting! This illuminates the tree from below, accentuating its distinctive features.
Flood Lighting – These illuminate your home's best feature, whether it's a statue, fountain, or beautiful oak tree.
Shadow Lighting – For dimensional lighting, choose shadow lighting which emits a light onto a surface that is in front of another object. This object can be a wall, garage, tree, or any other stationary item.
Whether for safety and security or more usability and beauty, lighting up a landscape can dramatically alter the look and feel of a home. Wheat's Landscape will work with you to come up with the best lighting design customized specifically for your backyard. We've been designing landscape lighting since 1987, so you can have peace of mind knowing you're working with outdoor lighting experts.
For professional landscape lighting in Maryland, including Silver Spring, contact Wheat's Landscape!
Benefits of Outdoor Lighting Installation
There are a variety of reasons why Silver Spring residents choose to install outdoor lighting for their home:
Security – Looking to improve the security of your home? Let us design a system of accent lights to compliment the exterior of your home and provide security from unwanted guests. Our design will illuminate your home without any bothersome glares to disturb your family, neighbors, or guests.
Safety – Use outdoor lighting to improve home safety and provide easy navigation around your home. You will no longer have to worry about your guests tripping over rocks or your garden hose.
Usability – Without proper lighting, your outdoor gatherings will be cut short. Keep your parties going late into the night with landscape lighting.
Beauty – Create a custom-designed landscape that makes your home stand out from the rest in the neighborhood with tree uplighting, driveway lights, spot lighting, garden lights, and more!
Call Wheat's Landscape at 703-641-4790 to schedule landscape lighting design and installation in Silver Spring!
Outdoor Lighting Design & Installation in Silver Spring
At Wheat's Landscape, we understand that every landscape lighting job is unique. No yard is exactly like another, which is why our design team works with you to design the perfect lighting solutions for your landscape. Improve the curb appeal and the value of your home with outdoor lighting design and installation from Wheat's Landscape.
For custom-designed landscape lighting, contact Wheat's Landscape! Our landscapers have been providing outdoor design and installation services to your Silver Spring neighbors since 1987.
have a project?
See If We Serve Your Community!
Testimonials
"Everything always exceeds our expectations. Everything was done perfectly. Everyone was happy to be there. You have an excellent crew and business."
M.L.
"We were fortunate enough to find a company that has just finished doing a fabulous job in our back yard. Wheat's did exceptionally high quality work, were extremely responsive and wonderful to work with."
D.G.
"I really like the communication, and the responsiveness. It is great to have a company that is there when you need them, and to have the comfort of knowing the property is well-maintained."
M.B.
"Well you all have quite a reputation for the quality of your work in my neighborhood. It's just beautiful! Wheat's is a legend around here."
R.B.
Proudly Serving
Northern Virginia, Maryland,
& NW Washington, DC
Let's Start Today