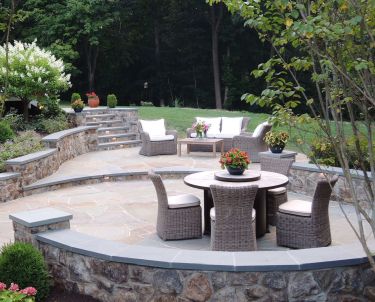 Landscape Design & Installation in Bethesda, Maryland
When the warm weather comes around, there's nothing better than relaxing outdoors. With Wheat's Landscape, you can create your ideal outdoor living space that you and your family will love! We offer a variety of custom designs to make your landscape vision in Bethesda a reality. Whether you're interested in designing a garden, installing drainage systems, or something in between, the skilled landscape designers at Wheat's Landscape can help you plan and execute your outdoor area dreams.
Our multi-faceted team of landscape architects, designers, certified horticulturalists, experienced project managers, and skilled craftsmen provide every landscape job with professionalism and friendliness. With personalized customer service and design, we offer attention to detail from conception to completion. By bringing quality, personalized service and design to every project, we are the premier single source landscape design-build provider throughout Maryland.
Are you interested in starting your landscape design and installation projects for your Bethesda home? Contact the professionals at Wheat's Landscape today!
Custom Landscaping Designs in Bethesda
The experts at Wheat's Landscape have designed and created a myriad of custom landscape designs throughout the Bethesda area. Whether you know exactly what you want to do with your outdoor space or if you need help coming up with ideas, our craftsmen can help you design the perfect plan for your home. Once we've figured out a concept, we'll move on to the site development and master plan. We can then begin our design and installation services, which include:
Garden Design
Whether you're hoping to add potted plants, create a charming vegetable garden, or grow a bright garden of flowers, the designers at Wheat's Landscape can help you plan the perfect garden for your yard.
Patios & Terraces
Incorporate a spacious new patio into your Bethesda home. We've designed a wide variety of patios and terraces, and can help you choose the perfect look for your home, style, and budget needs.
Walkways & Driveways
Perhaps you've been pining for a cobblestone walkway. Maybe you want a simple brick look for your new path. Both walkways and driveways add a truly welcoming touch while making your home more accessible to visitors.
Pergolas & Gazebos
And a touch of sophistication to your yard with a gazebo! Our team can install an array of pergola and gazebo models to truly match your vision.
Drainage Systems
Our skilled project managers are experts at implementing and installing the most convenient drainage system for your Maryland home and budget.
Retaining & Seating Walls
Often times, a wall can define your landscape more clearly while creating privacy and comfort for your home. Whether entertaining friends or enjoying family time, a retaining or seating wall can create an intimate atmosphere for your household.
Outdoor Lighting
Illuminate your landscape with the addition of outdoor lighting. Not only will your outdoor area be available for use at every hour, but you'll also enjoy the customized aspect of your lighting fixtures.
Outdoor Kitchens, Grills & Fireplaces
When the warmer months roll around, nothing is better than a home cooked meal outside. If you and your family love eating outdoors, consider the aesthetic and functional use an outdoor kitchen could offer!
Pools & Spas
Nothing quite beats jumping in your own personal pool or hot tub right in your backyard. We can install a plethora of pool designs to fit your family's desires and budget in Bethesda.
No matter what your landscape vision is, our team can make it a reality. Contact us to find out more about our services or schedule services for your outdoor area in Bethesda, Maryland today!
Landscapers Serving the Bethesda Area
Our licensed and certified landscape design and installation experts are dedicated to making your outdoor area match your dreams. Since 1978, our award-winning team has become a trusted company for landscaping services in the Bethesda area.
Whether designing a master plan for a large-scale property or an intricate plan for a small garden, our professional design staff will work closely with you to create a unique look specifically tailored to your vision. We pride ourselves in creating elegant outdoor spaces that match your home's architecture, blending the line between home and garden. You can trust that our landscape design professionals will leave you with a landscape that matches your dreams.
For landscape design and installation services in Maryland, including Bethesda, give the reliable experts at Wheat's Landscape a call today or fill out a contact form.
have a project?
See If We Serve Your Community!
Testimonials
"Everything always exceeds our expectations. Everything was done perfectly. Everyone was happy to be there. You have an excellent crew and business."
M.L.
"We were fortunate enough to find a company that has just finished doing a fabulous job in our back yard. Wheat's did exceptionally high quality work, were extremely responsive and wonderful to work with."
D.G.
"I really like the communication, and the responsiveness. It is great to have a company that is there when you need them, and to have the comfort of knowing the property is well-maintained."
M.B.
"Well you all have quite a reputation for the quality of your work in my neighborhood. It's just beautiful! Wheat's is a legend around here."
R.B.
Proudly Serving
Northern Virginia, Maryland,
& NW Washington, DC
Let's Start Today